Work becomes more and more independent of time or place, that much is clear. Smartphones, tablets and access to the internet have become common practice. For maintenance, however, you have to deal with installations or assets which are physically located in a fixed place. This can be inside your company or on the customer's premises. In either case, you want to enjoy the benefits of mobile platforms. Rimses Mobile offers you this possibility.
Functional
You want to deploy your maintenance engineers and/or field service engineers as optimally as possible. That is also our basic principle for the functionalities of Rimses Mobile. You can:
Consult information about the work to be done
Register the hours worked and parts used
Report that the technician's work is ready
Enter work requests
Register small repairs
Add photos and signatures
Enter customer evaluations
Send emails and call customers for Field Services
Image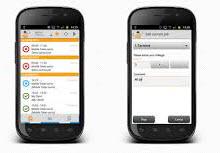 Reliability
The module works on every Android device: both tablets and smartphones. It goes without saying that models specific to industrial environments, such as ATEX, are also compatible.
There are numerous possibilities. For example, the mobile device enables you to scan bar codes. This is used by a part of our customers for logistical transactions. To add articles to a work order, you simply scan the bar code to record them on the work order. Do you wish to enclose a picture? The built-in camera enables you to do so. The built-in GPS function offers you location services for e.g. navigation. The device can also be used as a cellphone so that you only have to rely on one device for your contactability.
Image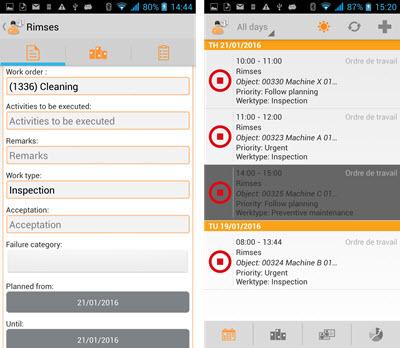 As you can see, Rimses is a full platform with which your engineers will be able to handle every aspect of their job. The user interface is intuitive. This way, no heavy investments regarding training need to be made.
Benefits
Your efficiency and productivity will increase by using mobile applications such as Rimses Mobile. After all, no more valuable time is lost because key information cannot be accessed or is missing. Customer satisfaction (internal or external) will improve because you are able to provide a better and quicker service. Your co-workers will take more pleasure in doing their job and will be more motivated because they are equipped with modern instruments which make work easier.
Read more about Rimses Mobile