Mobile maintenance today: you cannot do without a mobile device
Efficiency is becoming increasingly important. A maintenance employee wants to have all information at hand, any time, any place. He also wants to have a system on which he can record all of his findings and make them directly available to everyone.
Rimses Mobile allows you to perform professional maintenance from a tablet or smartphone whenever and wherever you like.
Rimses Mobile: tool for the maintenance employee
Usability is a priority for Rimses Mobile. The module works on every Android device: both tablets and smartphones. It goes without saying that models specific to industrial environments, such as ATEX, are also compatible.
Image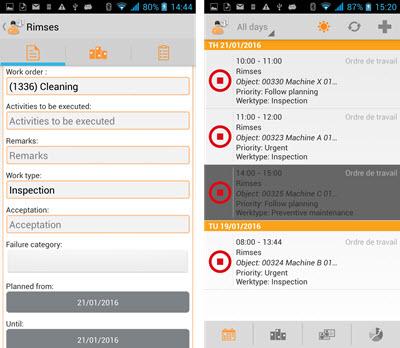 With an adapted menu and adapted windows, Rimses Mobile offers many features to the technicians:
Consult information about the work to be done
Register the hours worked and parts used
Report that the technician's work is ready
Enter work requests
Register small repairs
Handle checklists
Record measured values
Add photos and signatures
Enter customer evaluations
Send emails and call customers for Field Services
Rimses Mobile in practice
Rimses Mobile was designed for both maintenance technicians who are on the move on site for an internal maintenance department, and for employees of a service company working on location at their customers' premises.
The technician uses a mobile data connection to connect to the central system and synchronize his information directly. Once the work orders have been loaded, the mobile solution can also be used without a network connection. As soon as there is a data connection, the data will be synchronized again.
The mobile solution is enhanced by a web application that allows the planner to follow the technicians' work in real time and respond quickly in case of an emergency intervention, for example. The technician can also share photos taken on site with the back office for a second opinion on specific situations. The web application therefore promotes colleagues' efficiency and collaboration.
What are the advantages of Rimses Mobile?
The input is done directly in the system, making the paperwork redundant.
Working with Rimses Mobile saves you time.
There is no data loss.
Immediate data processing on-site, thus avoiding errors.
Maintenance workers have all information to carry out the work at hand on-site.
The solution is user-friendly: the app is intuitive and has a built-in scanner and photo function, etc.