Enterprise Asset Management System: maintenance functionality to effectively manage installations
Now more than ever, companies are looking for ways to work cost-effectively. They pay much attention to productivity, flexibility and quality. Rimses is the Computerized Maintenance Management System (CMMS) par excellence to effectively realize the company's objectives. Analysis of the functioning of the maintenance department reveals where problems and inefficiencies occur, how they are solved by the maintenance department and how operations can be improved.
The following functionalities are available for:
Smooth communication between production and maintenance
Work requests
Logbook
Authorization of work requests and work orders
Acceptance of work orders
Optimal functioning of the maintenance department
Image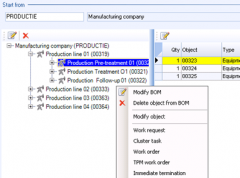 Support of your maintenance strategy
Predictive maintenance
Proactive maintenance
In eRimses you will find the functionality for creating work requests via the Internet.
All functionalities mentioned here are part of the products (with the exception of Capacity planning, LOTO procedures and Working papers):
The functionalities for Capacity planning, LOTO procedures and Working papers are not part of the product Rimses6 Fundamental.
If your company already uses an ERP system, you can use Rimses Interface to exchange data between your ERP system and Rimses6, allowing you to perform all actions in just one system. The interface makes the required information available in the other system.
Rimses Interface also allows interfacing with other systems such as financial systems, production systems, ...