Turn every customer contact into a sales opportunity
From the moment the first customer contact is made and a quotation is requested up to the periodically recurring services based on the agreements made, you collect a lot of valuable information. Reusing this information will undoubtedly lead to customer satisfaction and may result in even more sales opportunities. Each time someone within your company has contact with the customer or performs an intervention, the information will increase.
Rimses6 Service offers the possibility to register all this valuable information and pass it down to everyone in your company, from the quotation, over the sales order and project monitoring, through to the invoicing. Since the system also provides integrated planning, stock and purchase management and expedition, all operations of your service company are supported.
What can you do with the sales management of Rimses6?
Create, qualify and follow up quotations
Follow up the sales pipeline
Define sales opportunities
Manage customers with all their information by sector
Manage prices based on article or customer
Manage discounts for discount periods for material and services or for customers.
Manage sales actions
Manage sales orders for both installations and projects
Create templates for sales orders
Convert sales orders into work orders
Use extensive invoicing options

Create pro forma invoices
Create invoicing proposals so that invoicing can be adjusted
Invoice periodically
Manage invoicing installments
Send invoices
Create credit notes
Invoice leases
Invoice service contracts
Sales orders form the basis for work orders and invoicing
Because the quotation or the sales order already specifies which material and services will be purchased and delivered for the order, which performances will be provided and which department and/or planner will be in charge of the execution, the foundation for the work order and the subsequent invoice has already been laid.
This means that the people who execute the work are always aware of the agreements with the customer and that invoicing closely follows the execution and the agreements made. As a result, invoices can be made and sent quickly and accurately and fewer credit notes have to be created.
And because contract management is integrated as well, the technical service knows which interventions have to be performed. Additionally, the invoicing department knows which services and which material are not part of the contract and can be charged additionally.
Image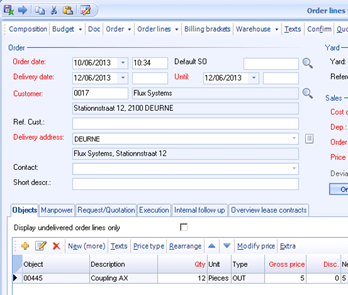 Because everyone uses the same system, there is also a lot of information available for analysis. The turnover of every sale or intervention can be viewed in function of the costs and proceeds and the profit margins can be consulted. The service level of the service department can be measured and compared to the SLAs (Service Level Agreements) that were made with the customer.
Besides standard reports, Rimses Analyzer also offers extensive analysis capabilities and KPI's regarding service management.